How It Works
---
Our Straightfoward Texas Two-Step Divorce™ Process
---
---
Our goal is to provide our customers with a hassle-free divorce solution without the costly attorney's fees. We strive to offer the best Texas divorce documents with the least amount of work and confusion as possible. To this end, we have divided the Texas divorce process into two steps:
---
STEP 1
Generate and file your Texas divorce papers.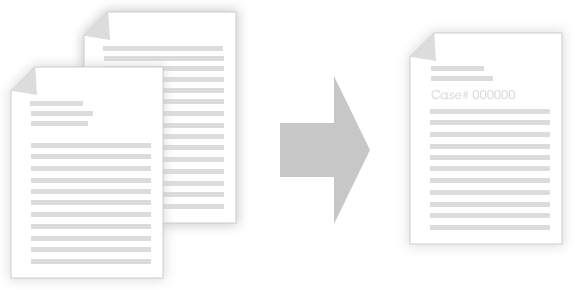 STEP 2
Finalize and obtain the divorce decree from the court.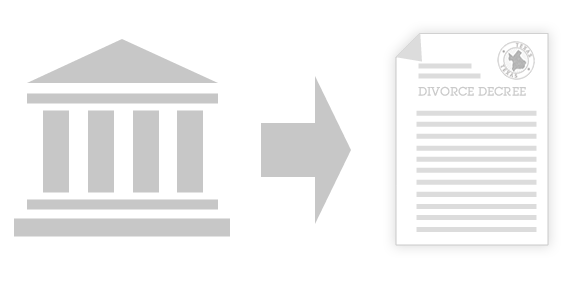 ---
By dividing the divorce process into two steps, we can focus our instructions on the precise task at hand. In other words, you will get specifically tailored instructions for each step. By implementing a two-step process, we eliminate much of the confusion associated with divorce forms from other websites. We want to make your divorce straightforward and uncomplicated so you can focus on getting on with your life.
Step One Documents:
Instructions for Initiating and Filing the Divorce
Court-Mandated Coversheet
Original Petition for Divorce
Waiver of Service
Affidavit for UCCJEA Info, if needed*
Blank Health Insurance Availability Form*
Step Two Documents:
Instructions for Finalizing the Divorce
Final Decree of Divorce
Military Affidavit, if needed
Certificate of Last Known Address, if needed
Hearing Testimony
*Only included if the spouses have minor children together.
Personalized Texas Divorce Forms
To take advantage of our Texas divorce forms and step-by-instructions, you simply pay a one-time flat fee of $299.00 (includes sales tax). After you register, you can then complete a simple online questionnaire which provides us with the information we need to personalize your divorce forms (i.e. information about you and your family and the desired terms of your divorce). Your information is used to customize your divorce forms and step-by-step instructions. Your personalized divorce documents (including everything you need to file for and obtain your divorce) is available for immediate download within seconds of completing the online questionnaire.
Once you have downloaded your divorce documents, you simply sign and file!
---
Start Your Divorce
---
---
Quick Overview
---
Register and submit payment of $299.
Submit information about you and your spouse and the desired outcome of your divorce via our online questionnaire.
Download and print your personalized divorce forms and step-by-step instructions.
Sign and file.
Does Your Divorce Qualify?
---
In order to use our divorce forms, you must meet certain requirements:
---
Uncontested Divorce: Your divorce must be uncontested (also known as agreed divorce or mutual divorce). The most common kind of uncontested divorce is when both spouses agree on the terms of the divorce. What is an uncontested divorce?
Texas Residency: Either you or your spouse must have lived in Texas for at least six months. The requirement is met if one spouse meets this requirement.