Lawyers Are Expensive. Your Divorce Doesn't Have To Be.
We are a Texas-based company that specializes in Texas divorce forms. We believe that you shouldn't have to settle for divorce forms prepared by an out-of-state provider who isn't as knowledgeable in the requirements and intricacies of the divorce process in Texas. Put your trust in divorce forms for Texans by Texans.
We Put You In Total Control
Accomplish your divorce without a lawyer
When you're ready for a divorce, you don't have to pay a lawyer to get the job done. We put you in control of the process with personalized divorce forms and step-by-step instructions. For just a low flat-fee you can buy our customized divorce kit and get a fresh start on life. Getting started is easy. Just answer a few online questions about your marriage and desired terms of your divorce. We will then incorporate your information into personalized divorce documents. All you have to do is print, sign and file.

---
---
---
How Much We Charge
---
We charge a flat fee of
$149.00
(plus sales tax) for a personalized Texas divorce kit that includes all of the necessary Texas divorce filing forms and step-by-step instructions on how to use them. Unlike other divorce form websites, we DO NOT surprise you with extra charges for adding children, editing, shipping, mailing, downloading, etc. What you see is what you get with our advertised price.
A typical Texas divorce lawyer charges about $300 PER HOUR! Our Texas divorce forms cost less than a one-hour consultation with a divorce lawyer. You can save thousands of dollars by using our Texas divorce forms.
---
Start Your Divorce Today
---
What We Provide
---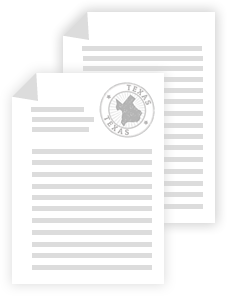 We provide an easy-to-use, quick, and economical online method for generating custom/personalized divorce forms that are ready to sign and file. Our simple online divorce solution makes your divorce less expensive and less stressful for you and your spouse.
Your personalized Texas divorce forms are available immediately upon completion of a quick and simple online questionnaire. You simply download your Texas divorce kit in Microsoft® Word or PDF format, then sign and file. Unlike some of our competitors, we do NOT force you to fill in the blanks. We even include instructions on how, when, and where to file your customized Texas divorce forms.
Our Texas two-step divorce™ process makes filing for divorce easy. Step one is filing the divorce and step two is obtaining the divorce decree. Each step includes specifically tailored instructions that make our Texas two-step divorce™ process simple.

The Difference Between Us and Our Competitors
When You Purchase Our Forms You Will Get:
---
Attorney-managed divorce forms specific to Texas and thus simple to use.
Court approved professional forms without blanks to complete. See our sample petition.
Immediate access to your personalized divorce forms upon completion of a short questionnaire.
Easy-to-understand instructions utilizing our Texas two-step divorce™ process.
100% guarantee that our divorce forms will be accepted by each and every divorce court in all 254 Texas counties.
Fast, reliable and free customer support from our Better Business Bureau accredited company based in Dallas, Texas.
Full editing capabilities of your Texas divorce forms.
Inexpensive divorce forms with no hidden charges.
In addition to our Texas divorce forms and step-by-step instructions, we provide access to various divorce resources to help you along the way including links to the district clerk's websites, a pro se divorce handbook, child support calculator, Texas statutes and more.
Our Competitors Offer:
---
Complicated forms designed to work in every state (not specific to Texas);
Generic-looking unprofessional forms cluttered with blanks to fill in. See a sample petition from our competitor. Make sure you know what you are getting before you buy. Ask for a sample, you may be surprised with what you see.
Multiple-day waiting periods while your Texas divorce forms are shipped to you.
Complex instructions.
Complicated money-back guarantees to make sure you do NOT get a refund. Because our forms are designed by Texas attorneys for Texas courts, our guarantee does not need to be complex.
Offshore customer support.
No editing capabilities.
Hidden charges such as shipping and editing.
---
Compare Popular Form Providers
---
---
---
Who Can Use Our Divorce Forms?
---
Our Texas divorce kit is designed for an UNCONTESTED divorce (also known as no-contest divorce or mutual divorce or even an agreed divorce).
What is an uncontested divorce?
We recommend that you hire a divorce lawyer if:
you or your spouse are in disagreement regarding the divorce, property division, custody or child support and you do not anticipate coming to an agreement;
neither you nor your spouse have lived in Texas in the last 6 months;
you have no idea where your spouse is and have no hope of finding him/her;
the husband is NOT the biological father of one or more children who were born during the marriage (In this instance, paternity must be established before the divorce can be finalized);
the husband is the biological father of one or more children who were born prior to the marriage;
there has been family violence (a parent that has a credible history of past or present child neglect or physical or sexual abuse cannot be appointed a Joint Managing Conservator, which is what our forms call for);
you are splitting sizable retirement benefits;
you are seeking a restraining order;
you are seeking a custody arrangement that deviates from the statutory standard possession order;
you have a child under the age of three;
the wife is currently pregnant;
the spouse have more than 8 children;
either spouse is incarcerated and children are involved
either spouse has a pending bankruptcy; or
either spouse is in the military AND child support and child custody are at issue.

---